The Aquacell Auto-Descaler automatically
removes and discharges the scales attached to the heat exchangers and condensing/cooling equipments, using electrolysis with pole switching method instead of physical or chemical treatment.
It does not require shut-down or any other downtime during the new installation or maintenance.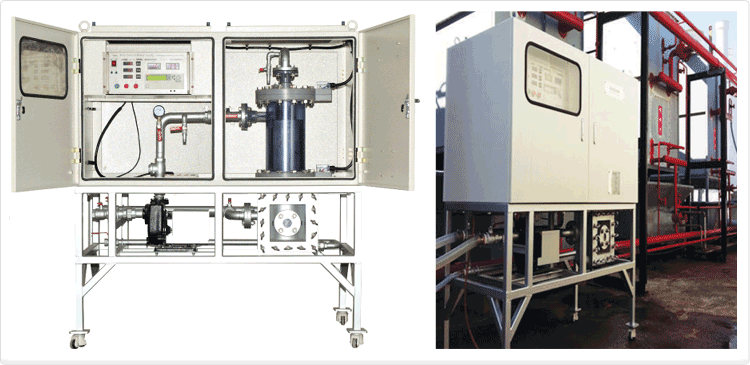 Unlike physical and chemical methods for cleaning of pipes,tubing/piping materials of the heat exchanger are not damaged.


As it does not use chemicals, waste water and pollutants are not generated.


It automatically removes scales from the electrodes through the pole switching method.


There is neither damage to the pole plate nor downtime required during the descaling job.


Maintenance is easy, as it is an automatic system.

Process Chart of Treatment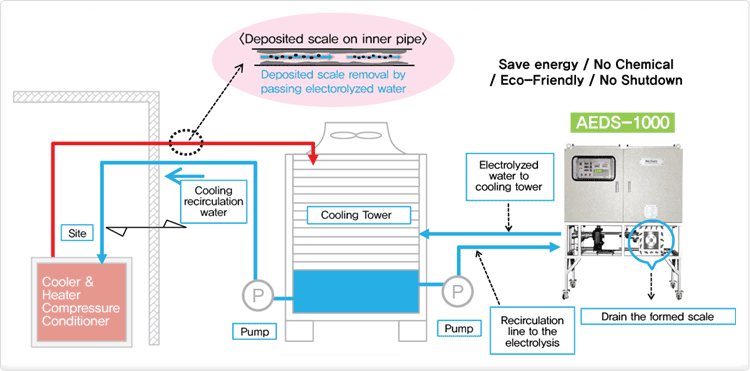 The Change of Scales in the Refrigerant Pipes Befor/After Installing the Equipment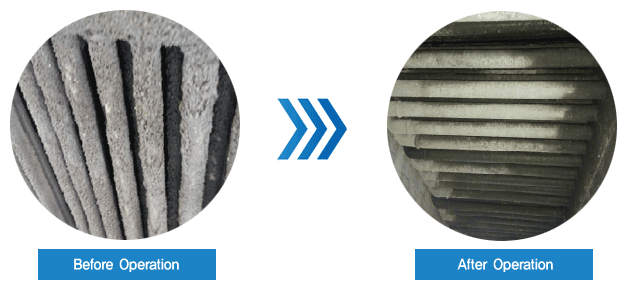 Application

Automobile industries


Steel-making, Iron and Metal Production industries


Shipbuilding and Ship Repair Industries


Machinery Manufacture Industries


Resin & Emulsion Manufacturing Process
Analysis of Energy-Saving Mechanisms

| | |
| --- | --- |
| Difference Derived by AEDS | Content |
| Decrease in Required Condensing Pressure[-∆] | P1→Pc2 |
| Decrease in Required Conpressor Work[-∆GW] | (h5-h3)→(h4-h3) |
| Increase in Refrigerating Effect[+∆r] | (h3-h2)→(h3-h2) |
| Increase in COP | |

Descaling Effects
Conventional Methods
Methods of Electrolysis
Physical/Chemical Methods
Existing Methods
Our Company's Method
Disadvantages
Disadvantages
Advantages
Shutdown of Related Facilities
Shutdown for Scale Removal
No Shutdown
Regular Cleaning Costs
Peeling of Coated Electrode
Automatic Drain of Scale
Decline in Productivity
Plate Lifetime Shortening
Extended Lifetime of Facilities(Compressor & Condenser)
Damage in Base Metal(Refrigerant Leakage)
Risks of Wire Cutting on Anode
Long-Time Cycle of Compressor Oil Change
Generation of Watsewater
Decline of Efficiency on Plate
Eco-Friendly : No Waste Water
Danger on Wastewater
Difficulty Maintenance
Easy Maintenance