Aquacell Media is formed by mixing environment-friendly
zeolite with polyethylene resin in 3-D structure that has much larger specific surface area and stronger adhesive power of
microorganisms than other media.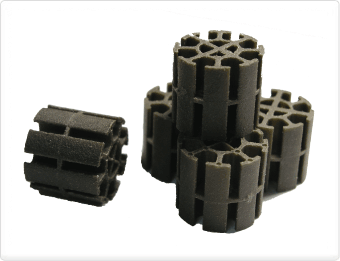 Treatment equipment can be compact with the large specific surface area.


The high porosity lowers pressure loss and reduces power costs.


High initial adhesion speed of microorganisms shortens start-up time.


The adhesive power of microorganisms is stronger and the growth rate of microorganisms is faster.


Environment-friendly materials (Zeolite, PE, etc.) used in Media are recyclable.

Characteristics of Aquacell media
Item
Unit
Aquacell media - CW
CW-SB type
CW-SM type
1"
2"
1"
2"
Material
PE + Zeolite
Size
mm
ø25.4 x H23
ø50 x H46
ø25 x H23
ø50 x H46
Specific Gravity
-
1.17 ~ 1.2
1.17 ~ 1.2
0.99 ~ 1.02
0.99 ~ 1.02
Unit Surface Area
㎠/EA
74.93
176.49
74.93
176.49
Specific Surface Area
㎠/㎠
500
270
500
270
Weight
g/EA
4.2
20.9
4.0
19.5
Porosity
-
0.82
0.84
0.82
0.84

Application

All kind of Sewage Treatment System (Waste Water, Gray Water, River Water, etc.)


Microbiological & Chemical Deodorization Facilities

Photos for Microorganisms Adhesiveness Before / After Adopting Media
Before using Media
(No microbial adhesives)
After using Media
(Microorganism attached

Comparison of microbial media
Item
Aquacell media(PE+Zeolite)
Pall Ring
Polyester non-woven fabric
Shape
Material
Polyethylene(PE) + Zeolite
Polypropylene
Polyester
Specific surface area(㎠/㎠)
5.00
1.93
4.16
Porosity
0.8
0.73
0.97
Surface Roughness
30
7
15
Characteristics
Advantage
- The ability of microbial
adhesion is excellent.
- It has a large specitic
surface area and porosity
- Higher Durability & Longer
Life-cycle
- The maintenance is easy
- The price is relatively cheap.
- Easy Maintenance.
- Light weight
- The initial cost is cheaper.
- The initial time required for
microorganism adhesion
is short.
Disadvantage
- The initial cost is relatively
high.
- Microbial adhesion is poor
due to small specific surface
area and surface roughness.
- The replacement cycle is
frequent due to the short
life-span.
- The processing perfomance
is significantly degraded by
sludge consolidation
phenomena, if operated for
a long time.
- The media is destroyed with
a rapid pace of aging